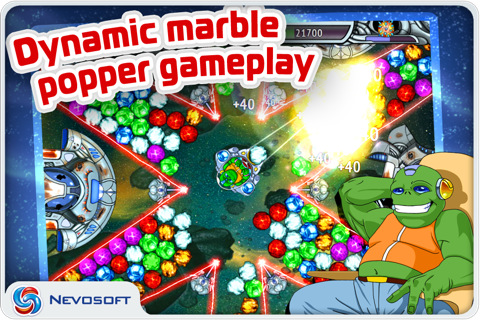 The story behind an iPhone game does matter sometimes, right? A little bit, maybe…
OK, the story doesn't matter when it comes to a fun filled game. And this time we've got the lazy Zzed – an alien who has to find a job and get some money in order to win the hand of his love, Zzuma.
The game – ZZed is just what you might imagine – Zuma for iOS. For just $0.99 you get a space shooter and a logical puzzle all in one. 60 levels in 10 episodes should keep you busy for a while. Your task is to help ZZed burn the cosmic garbage (or marbles) and get the money fast so he can go back to his love.
Here's a short gameplay video:
boio.ro is giving you a chance to win one of the 3 promo codes for this app. The steps are as easy as every time on boio.ro:
1. Follow @boioglu on twitter.
2. Tweet this message "RT @boioglu Get your chance to win ZZed for iPhone on boio.ro http://is.gd/nDGkmI".
3. Leave a comment below with the link to your Tweet (not to your twitter account page, but to the tweet itself).
Three lucky boio.ro fans will get ZZed on their iPhone on June 26th.
Update: And the winners are: SergiuD, okidoki99 and Cristian Herman. If you've won send me an email till June 30th to redeem your code.