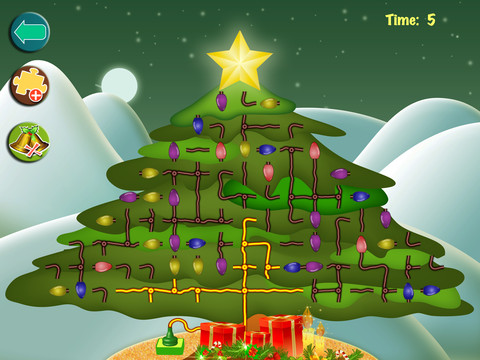 Razvan Merlea, un developer roman si cititor fidel al boio.ro are un nou joc in AppStore. Mi-a propus sa-l testez pentru citeva zile. In seara asta mi-am facut timp si nu am mai lasat iPad-ul din mana pina nu l-am terminat.
"Light Up the Christmas Tree" pare simplu la prima vedere. Tot ce ai de facut este sa unesti firele de curent pentru a aprinde beculetele din brad. Si la inceput e o joaca, dar pe masura ce inaintezi in plansa treci de la frustrare la bucurie in citeva secunde. Ai 50 nivele si poti sa te lauzi cu rezultatele tale pe Game Center. Dar aplicatia este doar pentru iPad.
Jucaria costa doar 99 centi in AppStore, dar te va tine in priza citeva ore bune. Chiar nu am mai vazut demult un joc romanesc care sa ma tina linga iDevice minute in sir.
boio.ro pune la bataie 4 promo-coduri pentru aceasta aplicatie. Pasii catre castig sunt la fel de usori ca de fiecare data pe boio.ro:
1. Urmareste @boioglu pe twitter.
2. Trimite un tweet cu mesajul: "RT @boioglu Castiga "Light Up the Christmas Tree" pe boio.ro http://is.gd/gv1C0S ".
3. Lasa un comentariu cu link-ul catre Tweet (nu catre pagina ta de twitter, ci catre tweet-ul respectiv).
Tragerea la sorti are loc pe 20 decembrie. Verifica acest post la data respectiva si revendica-ti codul, daca ai castigat. Cine nu revendica… pierde codul.
update: Castigatorii sunt @deltady, @because2011, @gabi_lafayet si @vacosmin. Ei sunt asteptati sa-si revendice promo-code-urile pina pe 22 decembrie.