You already know I'm a big fan of Alfred and I consider it one of the best apps for your Mac when it comes to productivity. Back in 2013, Alfred won the boio.ro "Best of All" Award. It is just one of the ways I wanted to express my gratitude for the app that has changed the way I work on my computer.
This week, the team behind Alfred has released their first iOS app and as you might expect, this takes the Mac productivity even further. Alfred Remote for iOS is a way to control your Mac like never before.
It basically works as a work to trigger actions, launch apps, scripts and even add snippets of text to and email or chat.
In order to use Alfred Remote you need to have both the iOS Device (iPad or iPhone) on the same WiFi Network and run the 2.6 version of the app for OS X.
To set it up, go to the Alfred Preferences on your Mac (⌘Space and then ⌘,) and get on the Remote tab. You will be presented with a few sidebar categories: System Commands, Applications, Preferences, Files and Folders, Bookmarks and iTunes Control. But you can add Clipboard snippets or even a blank page to customize to your liking.
Imagine you keep your iPhone with you, but the Mac is in another room playing some music. You could be changing the volume, go to the next song or even set a rating for the current playing one.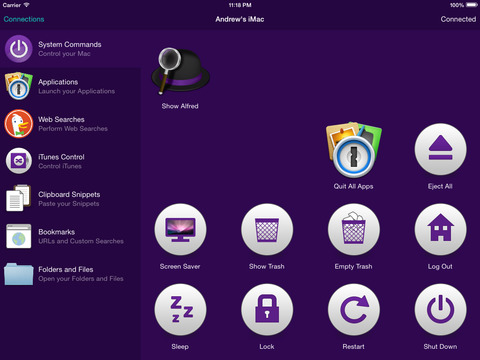 The commands I use the most are: Eject all external drives, quit all apps / shut down and the ones in the iTunes Control page. I wish there would be a way to use the up/down arrows to navigate files in a folder you open on the computer.
Adding workflows and scripts makes this even more powerful. Sure you could be triggering the same workflows from your computer, but that will require to be with your fingers on the keyboard and you'd have to type a few characters into the Alfred window. Using the remote, one you set it up you'd only have to press one button to perform an action.
You can get Alfred Remote for iOS from the AppStore. If you are not an Alfred user you should download it right away. In order to have it working with Alfred make sure you download it straight from the developer's website.