This is the kind of app that you should have on your iPhone all the time. You give it something to read and it will do just that. Don't fear if your language is not on the list – you've got 21 languages and 32 different voices to choose from.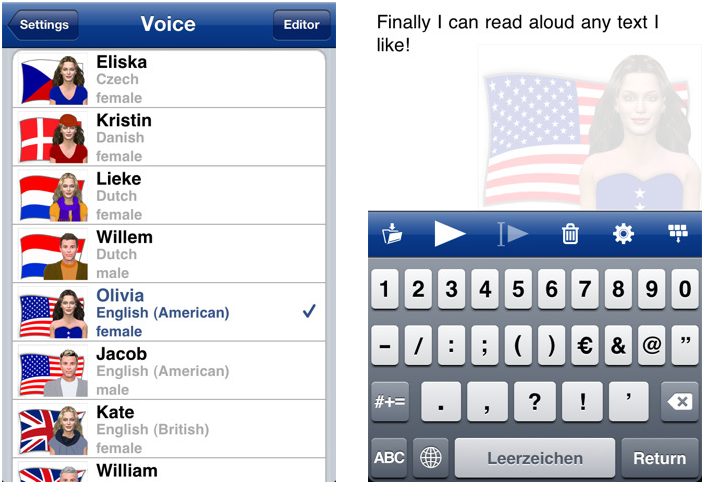 Voice reader works with iPhone, iPad or iPod Touch and it can read any text that you will copy/paste into the app's window. Not only that but you can save each text, the resulting audio file or send em both via email to yourself or a friend.
You can use Voice Reader to practice pronunciation on foreign language or just have your very own free audio book. You can use any of the above mentioned languages up to 2000 characters or purchase the ones you need for only 99 cents. The best thing is that you do not need an Internet Connection – all voices are available offline.
Let's say you're in a foreign country and you need a quick way to ask somebody something in their own language. You could use Google translate or a dictionary app to translate the words, but you don't know how to pronounce em. Voice Reader is your best option.
Voice Reader is now available for 1.99 in the AppStore, but keep reading to get your copy for free.
boio.ro is giving you a chance to win one of the 4 promo codes for this app. The steps are as easy as every time on boio.ro:
1. Follow @boioglu on twitter.
2. Tweet this message "RT @boioglu Get your chance to win "Voice reader"for iPhone/iPad/iPod Touch on boio.ro dlvr.it/dvfVl".
3. Leave a comment below with the link to your Tweet (not to your twitter account page, but to the tweet itself).
Check back this post on August 7th to see if you're one of the lucky boio.ro fans who'll get a copy of Voice Reader.
update: and the winners are: @marius077, @NucuFlorea, @aparaipan, @vacosmin. Make sure to send me an email till August 10th to redeem your code.