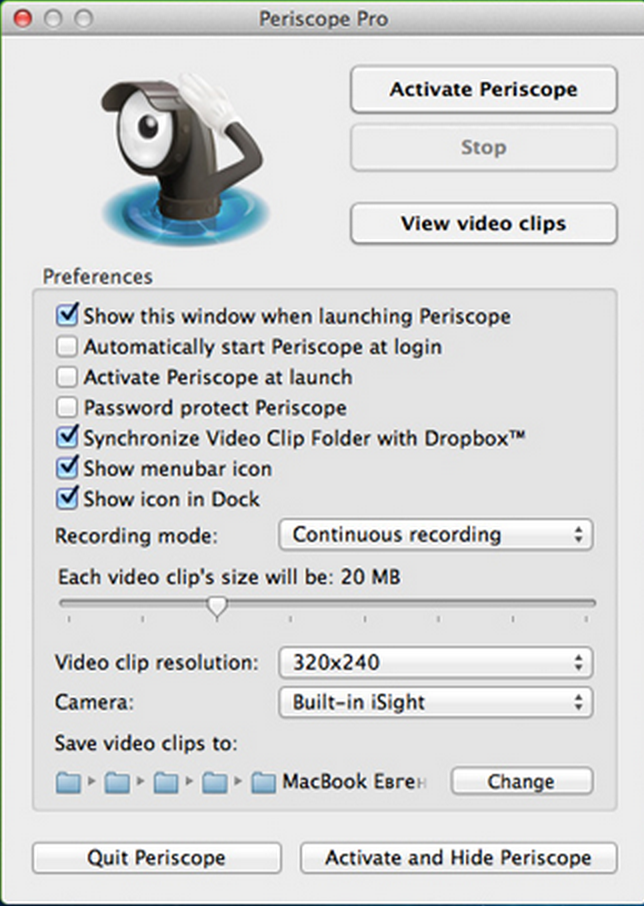 So you need to leave your Mac alone for a few minutes or you just want to know who's using it? There's an app for that. Better yet, you need to have a built-in motion detection video surveillance system in you home? Yep, I'm talking about the same app.
Periscope Pro is what you're looking for. Not to mention that you can also set the app to use the mic and camera of your mac to record something every xy minutes.
And here comes the benefits of Dropbox. Persicope Pro records video files to your computer, but you can set the recordings folder to your Dropbox and you can watch those files from across the town/world. The maximum resolution is 720×480, but you can choose to have smaller files.
Persicope Pro is $20 in the AppStore or on the developer's website, but if you keep reading you're in store for some goodies. There are a few more reasons why this app is good to have on your computer, just in case:
– Choose sensitivity level– ignore or detect small movements such as the wind ruffling a curtain.
– App can be hidden from users
– Can be password protected so that only you can operate it
– Supports either the built-in or an external camera.
boio.ro is giving you a chance to win one of the 4 promo codes for this app. The steps are as easy as every time on boio.ro:
1. Follow @boioglu on twitter.
2. Tweet this message "RT @boioglu Get your chance to win "Periscope Pro" on boio.ro http://is.gd/lV9X3g".
3. Leave a comment below with the link to your Tweet (not to your twitter account page, but to the tweet itself).
The winners will be randomly chosen on July 31st.
Update: and the winners are: @MihaiDumitrescu, @BobotzZz, @christiaaano and @radu_anghel.