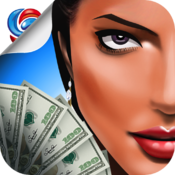 If you know me, you know that I do not plat games on my Mac. In the time that has passed since the AppStore was released, I've only installed 2 games on my Mac: Angry Birds and some Trains Game.
Till today.
Million Dollar adventure; hidden object game is the first game I've installed in the past year and it kept me busy for some time. The story is simple: Sandra, the main character goes in a trup around the world to win a million dollars. But you have to put every piece of her life together in order to move forward. Here's a gameplay video:
boio.ro is giving you a chance to win one of the 4 promo codes for this app. The steps are as easy as every time on boio.ro:
1. Follow @boioglu on twitter.
2. Tweet this message "RT @boioglu Get your chance to win "Million Dollar Adventure" on boio.ro http://is.gd/4UpatR".
3. Leave a comment below with the link to your Tweet (not to your twitter account page, but to the tweet itself).
The winners will be chosen on November 15th.
Update: and the winners are: Marius077, Ervin, Cosmin and Ionica.