There are a few Voice Recorder apps for OS X out there and the OS has you covered as well, but sometimes when you just need a quick way to record something nothing can please you.
That's what I said till I found "eXtra Voice Recorder". This nicely designed app stays in your Menu Bar and it needs just one click to get your audio stored in a safe place. When the recording is done you can add a title and a description and move on to the next task.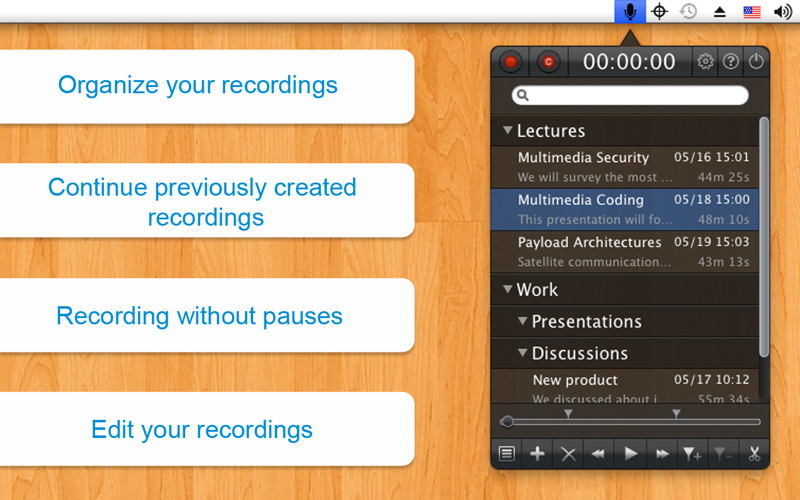 But eXtra Voice Recorder can help you search through hundreds of recordings right from the Menu Bar, edit them and mark the most important part of the audio files. On the other hand you don't even need to stop the audio session. The app detects the moments when you are not speaking and can then cut the audio just right.
Feels like you're getting a lot for just $10. And if you hurry up you can get eXtra Voice Recorder for half price – $4.99.
boio.ro is giving you a chance to win one of the 3 promo codes for this app. The steps are as easy as every time on boio.ro:
1. Follow @boioglu on twitter.
2. Tweet this message "RT @boioglu Get your chance to win eXtra Voice Recorder for Mac on boio.ro http://is.gd/fFOHuO".
3. Leave a comment below with the link to your Tweet (not to your twitter account page, but to the tweet itself).
The first promo-code will be given away to the first boio.ro fan to post a comment. Update: it's Gone! The other two will be raffled off on June 15th.
update 2: And the winners are: jan and Cristian. Have you won? Email me till June 18th to redeem your codes.