A few years back, I used to have a wallet full of business cards. I had my own to give away and was collecting others'. After a meeting I was collecting all the phone numbers and the info for all my contacts adding them to the Phone and to a separate notebook, just in case.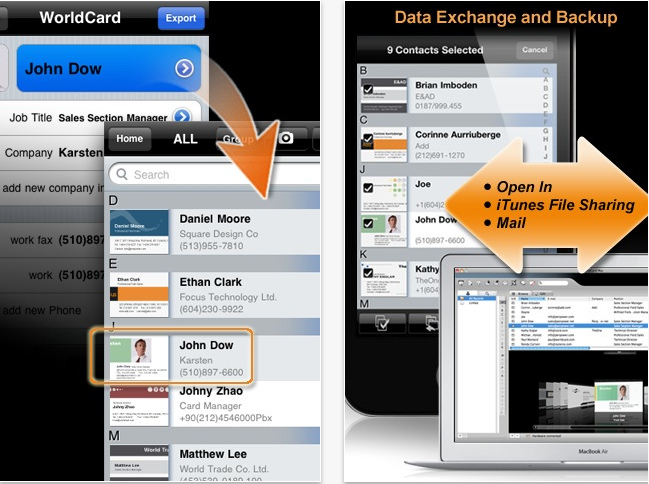 WorldCard Mobile is the kind of app that would've saved me countless hours. You can snap a picture of the card, the app is going to OCR it automatically and give you the option to edit or add info and then save the result in your Address Book. It's not the first one to do this, but the interface seems pretty straight forward and there are a few features that I really like about it:
– Scanning the card is almost instantaneous
– you get to keep a picture of the actual card for future reference and see it in cover flow mode
– you can merge new data into existing contacts
– the app offers basic photo editing capabilities like photo contrast adjustment or manual crop.
WorldCard Mobile can recognize text written in 7 languages: English, French, German, Italian, Spanish, Portuguese and Dutch and you don't need to set the language and get stuck with it, but actually change it on the fly for each card. And taking a photo of the card is not the only way to add a Contact. You can also automatically copy information from email signatures or from a website.
WorldCard Mobile is $6 in the AppStore, but boio.ro is giving you a chance to win one of the three promo codes for this app. The steps are as easy as every time on boio.ro:
1. Follow @boioglu on twitter.
2. Tweet this message "RT @boioglu Get your chance to win WorldCard Mobile on boio.ro http://t.co/wpbTyTx".
3. Leave a comment below with the link to your Tweet (not to your twitter account page, but to the tweet itself).
And the winners are: SergiuD, Adrian din Arad and Mircea. Did you win? Reedem your code via email till May 9th.