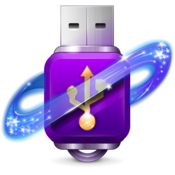 I know, you'll say you don't need it if you have a Mac. But there are small things that you should automate.
The developer says you should use USBMate every time before ejecting your Flash Drive and its content will be cleaned and optimized. All the temporary files that Windows or OS X creates (.DS_Store, .Trashes, .Spotlight-V100, Thumbs.db) will be deleted. It takes a few seconds to do it.
The app has a built-in anti-virus, too, just in case your paranoid about your external drives on your Mac.
boio.ro is giving you a chance to win one of the 3 promo codes for this app. The steps are as easy as every time on boio.ro:
1. Follow @boioglu on twitter.
2. Tweet this message "RT @boioglu Get your chance to win USBMate on boio.ro http://is.gd/69kImu".
3. Leave a comment below with the link to your Tweet (not to your twitter account page, but to the tweet itself).
The first, 3rd and 5th valid comment will automatically win a promo-code.