Talking about getting that audio recording to the computer fast…
I know you can record anything using the nice "Voice Memos" on your iOS Device, but in order to get that audio file from the iPhone to the computer you gotta send it via email or sync to your computer. iOS 5may change this, but till then, you have to have this app.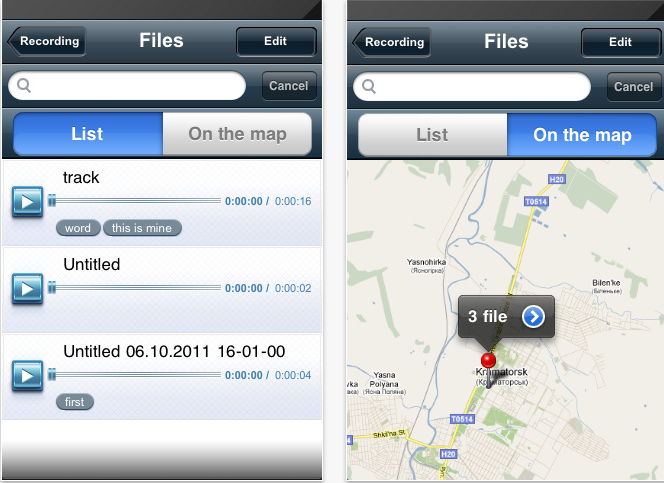 "Tagged Recorder" works with all versions of iPhone, iPad or iPod Touch. You've got 3 main buttons: record, stop and pause. Yes, you can even pause the recording. At the end you'll be asked for a name for the file and you can add tags so that searching for that audio will get much easier. Tagged remembers the location of your recording so you can find everything easily on the map.
But the best thing about it has to be the fact that you can upload the audio files to your Dropbox and from there… well, anywhere you want, instantly. This useful app is 1.99 in the AppStore, but you can get your very own "Tagged Recorder" for Free.
boio.ro is giving you a chance to win one of the 3 promo codes for this app. The steps are as easy as every time on boio.ro:
1. Follow @boioglu on twitter.
2. Tweet this message "RT @boioglu Get your chance to win "Tagged Recorder" http://is.gd/RRkikx on boio.ro".
3. Leave a comment below with the link to your Tweet (not to your twitter account page, but to the tweet itself).
The first, 3rd and 5th commenter will get "Tagged" (pun intended) automatically. You will not be able to see the comments till all the codes have been won.
Remember to check this article again when the winners will be announced and send me an email to redeem your promo-code. All the codes that are not redeemed within 3 days from the announcement will be given away to other boio.ro fans.