Sure, there are lots of Dictionary apps in the AppStore, but most of them use Google Translate and you need to be online to use them.
Lingvo Dictionary Pack is one of the best out there and the good thing about it is that you do not need an Internet Connection. You have five different premium dictionaries. You don't even need to know the spelling. The app will try its best to guess the word you're looking for and provide a translation even if the spelling is wrong.
One other awesome feature is Photo Translation. Just upload a picture of a text and get the translation for it.
Here's the breakdown. The English to French dictionary has 170.000 words and phrases. The German one has more than 150.000, the Italian has…. well, you get the point: more than you'll even need.
How much would you pay for all that? Lingvo costs $29.99, but if you keep reading you'll get your copy for free.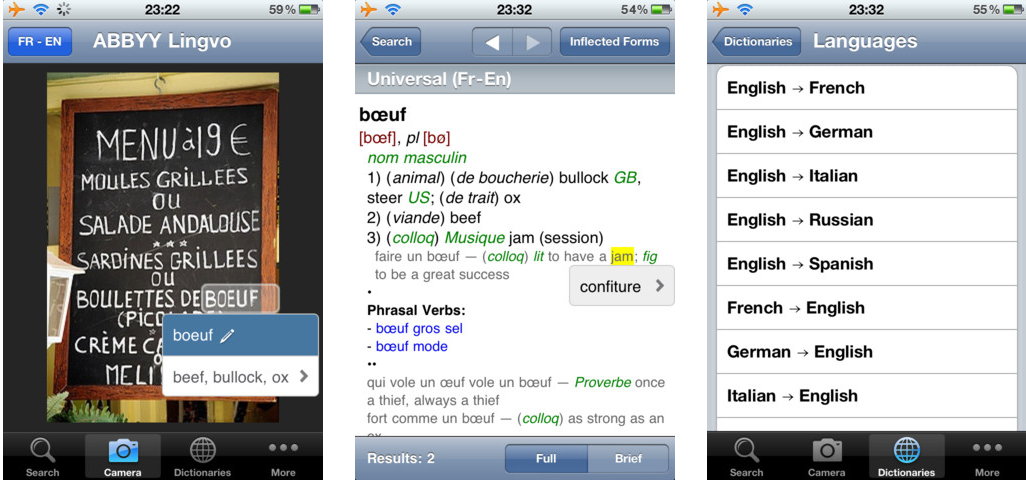 boio.ro is giving you a chance to win one of the 5 promo codes for this app. The steps are as easy as every time on boio.ro:
1. Follow @boioglu on twitter.
2. Tweet this message "RT @boioglu Get your chance to win "Lingvo Dictionary Pack" on boio.ro http://is.gd/WAyfiw".
3. Leave a comment below with the link to your Tweet (not to your twitter account page, but to the tweet itself).
The winners will be randomly chosen on July 30th.
Update: and the winners are: @GCaraman, @vacosmin, @scalpel_diem, @MileaMadalin and @Marius077.