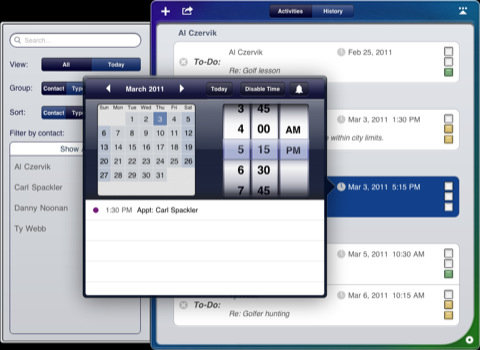 Today, we've got a great Task management app for iPad – FollowUp – and three lucky boio.ro fans are about to win themselves a copy.
The idea behind this iPad app is that your schedule revolves around your friends and partners' schedules. So even you've found the best ToDo app, there's a big chance you won't be able to integrate Contacts, Calendars, Appointments and ToDos in it in the same time.
Here's a scenario: you call a friend to set-up a meeting. You get a reminder from "Follow-up". After the call you need to add the details in your calendar. If your friend changes his mind and wants to reschedule, you can do that very easily, right from within the app. No need to open the calendar and try to remember the date.
And that's not all. FollowUp can help you as a management tool as well. You can send emails to your team and they can see the attachments and messages inside the app, on their iPads.
If you think this app may not be for you just because you're not a bussiness man/woman there are other ways you can enjoy it. FollowUp integrates with your Calendar and Address Book so you can see past and future interactions with your friends. Just select a name and see everything you need to know about it.
FollowUp is $5 in the AppStore, but boio.ro is giving you a chance to win one of the 3 promo codes for this app. The steps are as easy as every time on boio.ro:
1. Follow @boioglu on twitter.
2. Tweet this message "RT @boioglu Get your chance to win "FollowUp for iPad" on boio.ro http://t.co/0BkkRKh".
3. Leave a comment below with the link to your Tweet (not to your twitter account page, but to the actual tweet).
Three lucky winners will be randomly chosen on April 20.
Following up on the above chalange (pun intended), here are the winners: gabi_lafayet, evilboarder and allysimi. They've got to send me an email till April 23rd to redeem the promo-codes.