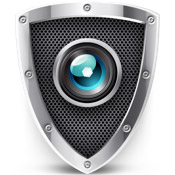 Back when I bought my MacBook Pro in 2008 I used to have a small app that would make a great show off for whoever was interested to find out what the Mac can do. The app was hidden in your Menu Bar and it was taking secret photos of everyone that would touch your computer.
Almost three years later, I found a great replacement in the Mac App Store that does the same thing, but with a much better interface.
Introducing "Security Camera". Not only you can see who touching your Mac when you're not around, but you can also get a visual history of your face every day. Once you install it, the app works without you even knowing. It takes a snapshot after the computer wakes up. There's no need for further configuration – you just click on the Menu Bar Icon and get to a folder where all the pictures were saved.
boio.ro is giving you a chance to win one of the 3 promo codes for this app. The steps are as easy as every time on boio.ro:
1. Follow @boioglu on twitter.
2. Tweet this message "RT @boioglu Get your chance to win "Security Camera for Mac" on boio.ro http://t.co/qTEfsBJ".
3. Leave a comment below with the link to your Tweet (not to your twitter account page, but to the actual tweet).
The winners will be randomly chosen on May 1st.
And the winners are: cristina, okidoki99 and mdliviu. They have 3 days till May 5th to redeem the promo-codes.