I've had friends playing around with my iPhone and they end up opening the Photos app. You can hide the icon on the last page, but you can never protect your Photos so the app we're talking about today is the answer to all my worries.
Safety Photo+ does exactly what you would imagine: keeps your photos private and helps you organize them, share and manage the files much easier than the built-in Photos app.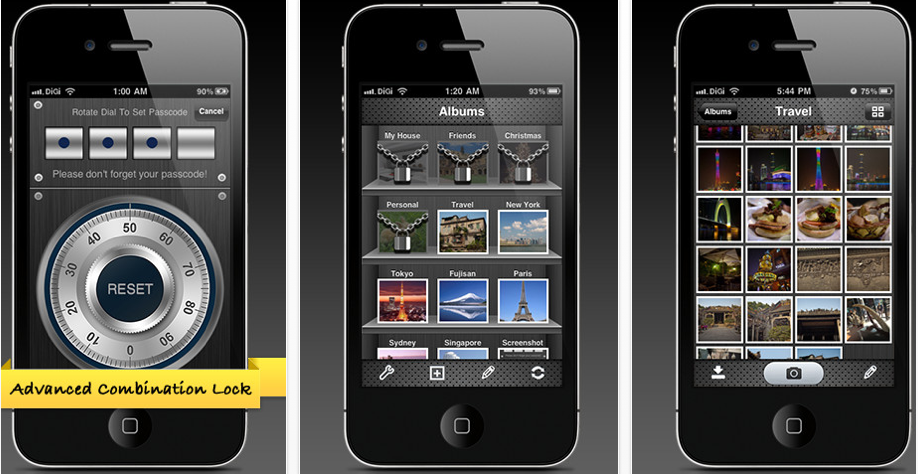 Safety Photo+ has a unique protection that combines a lock code and a combination lock. You have a few themes you can use and you can create albums, copy or move photos, export them and send them to your computer.
boio.ro is giving you a chance to win one of the 4 promo codes for this app. The steps are as easy as every time on boio.ro:
1. Follow @boioglu on twitter.
2. Tweet this message "RT @boioglu Get your chance to win "Safety Photo+" on boio.ro http://is.gd/mKzDIf".
3. Leave a comment below with the link to your Tweet (not to your twitter account page, but to the tweet itself).
Four lucky boio.ro fans will be randomly chosen on September 10th. Please make sure to check back this post on that date to see if you're the winner and redeem your code.
And the winners are: @sergiudodis, @cadinica, @andreiTicky, @PaulSorescu. make sure to redeem your code till September 12th.
PS: The developer just made this app free after the winners were announced, so you get it right away at no cost to you.