This is the kind of app that I have no idea what it does. But I know two important things. The developer is romanian (and a friend of www.boio.ro) and this is really useful to someone. Just like many of you he participated in boio.ro contests to get promo-codes and then came to learn and love the Mac and iOS. This is his first app and it is a very specialized one.
The info is provided by the developer and I trust him it will be accurate. In order to establish a connection between two locations (voice/data) we need a wire, an optical fiber link or a radio link.
For a working radio link you need visibility between the two locations and a good Received Signal Level in the receiver.
Using an iPhone or iPad telecom engineers can can quickly check with RF Haversine, the clearance of Line of Sight (terrain profile), calculate the necessary transmit power and the necessary antenna gain for an optimal radio connection, etc.
RF Haversine is $6 in the AppStore, but if you keep on reading you can get it for free.If you need it or if you know someone who needs it, this is the right moment to get it.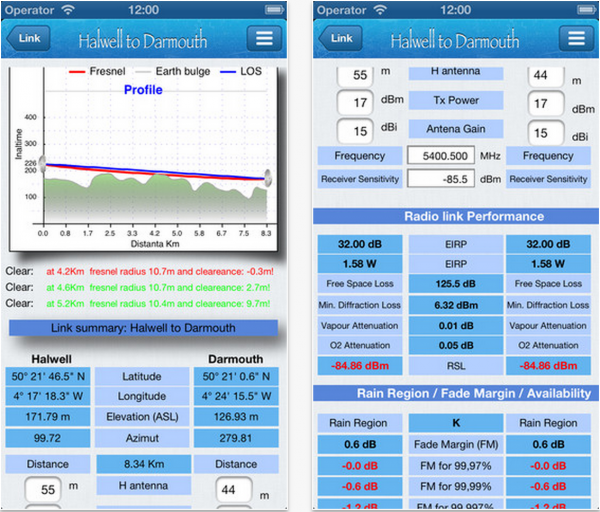 boio.ro is giving you a chance to win one of the 3 promo codes for this app. The steps are as easy as every time on boio.ro:
1. Follow @boioglu on twitter.
2. Tweet this message "RT @boioglu Get your chance to win "RF Haversine" on boio.ro http://is.gd/jqxtbj".
3. Leave a comment below with the link to your Tweet (not to your twitter account page, but to the tweet itself).
The winners will be randomly chosen on July 7th.
Update: and the winners are @catalin7mar, @GCaraman and @i0n1ca.