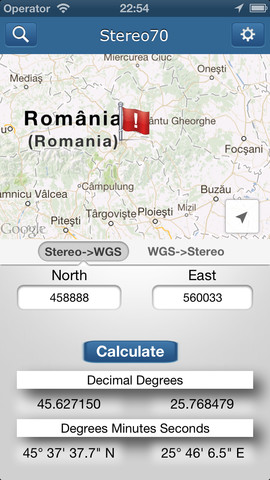 This is one of those apps that I have no idea what is doing. But I know two things: the developer is a friend of boio.ro and this app may be really useful to someone.
So here's what we're going to do. I'm just gonna share some info from the app description and let you get it for free. Good enough? :)
iStereo70 the first application for iPhone which help you to convert coordinates Stereo70 to WGS84 (DD or DMS) or vice versa and check the location on Map (requires an internet connection).

Stereo70 is a projection system specific Romanian Maps for Non-military large and medium scale topographic mapping and engineering survey.


It was defined by information from ANCPI (National Agency for Cadastre and Land Registration)
boio.ro is giving you a chance to win one of the 3 promo codes for this app. The steps are as easy as every time on boio.ro:
1. Follow @boioglu on twitter.
2. Tweet this message "RT @boioglu Get your chance to win iStereo70 on boio.ro http://is.gd/6K1W8h".
3. Leave a comment below with the link to your Tweet (not to your twitter account page, but to the tweet itself).
The winners will be randomly chosen on August 7th.
Update: and the winners are @pryky, @MileaMadalin and @gabi_lafayet.