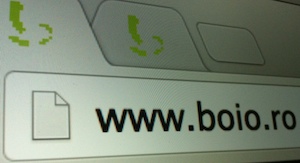 Am primit destul feedback pentru prima Lista de link-uri. A fost in majoritate pozitiv, asa ca ideea ramane in picioare.
1. Ma incinta ideea de a avea o modalitate in plus de a incarca telefonul. De obicei apelez la incarcatorul din masina, dar si o jucarie din asta e interesanta.
Bolt Battery Charges Your Gadgets and Itself at the Same Time
2. Vodafone spune ca ii merge rau… din cauza altora. Adica nu ofertele lor pentru abonati le fac rau?
Vodafone: veniturile au scăzut datorită reglementărilor
3. OK, jurnalistii au reguli. Dar Instagram ce vina are?
Journalists can share Instagram photos from the Winter Olympics, but video is banned
4. M-am lovit de citeva ori de problema asta atunci cind discutam cu un developer despre promovarea aplicatiei lui. Noua politica Apple pare sa ajute.
App Developers Can Now Generate 100 Promo Codes Per Release
5. Concluzia este alta: un HDD o sa moara. De aia e bine sa ai back-up pe mai multe drive-uri sau prin mai multe metode. Vorba aia: One back-up is no back-up!
Backblaze answers the question "How long do hard drives last?"
6. Cind esti tanar nu stii ce sa faci cu viata. Ideea Quora mi se pare foarte interesanta si anumite intrebari si raspunsuri sunt chiar utile.
How should a 22-year-old invest time?
7. Stii cite iPhone s-au vindut in primul week-end? Citeva milioane. Stii cite Moto X s-au vindut in 3 luni?
Moto X doesn't mark the spot: only 500,000 devices sold so far, report says
8. Chiar eram in cautarea unui ceas de noapte :)
Star Trek Enterprise NCC-1701 Ship Projection Alarm Clock
9. Un exemplu de urmat!
Un intreprinzator roman cere statului documente justificative pentru a-si plati taxele si impozitele
10. Developerii au nevoie de mai mult de la tine. Un pret platit o singura data nu este de ajuns, la nesfarsit…