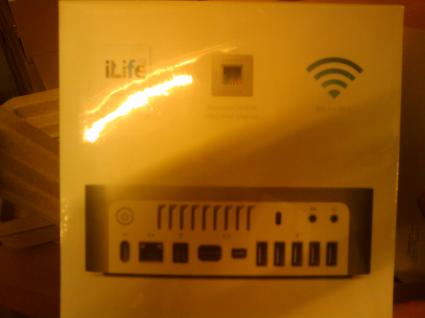 nici nu a inceput Martie ca deja se anunta stiri importante legate de upgrade-uri hardware… deocamdata la nivel de zvonuri confirmate de mai multe surse avem un nou MacMini si un nou iMac. Daca informatiile sunt corecte, vom afla in mai putin de 24 ore.
ca sa fiu mai exact: 4 modele de iMac (entry level, mass market, high end si ultimate model) si 2 de MacMini (entry level si high end level).
primele informatii despre configuratii nu intarzie nici ele sa apara. prea multe suprize nu sunt, poate doar la capitolul design sa avem ceva nou. poza alaturata este, evident, cu un ambalaj de MacMini.
Mac mini:

– 5x USB

– 1x FireWire 800

– 1x mini DVI

– 1x Display port

– Nvidia chipset (like the newest MacBook)

– starting at Intel Core 2 Duo 2.0 Ghz

– 1 of 2 GB DDR3 memory (max 4 GB)

– 120 GB hard disk (max 320 GB)

iMac:

– one 20″ model, three 24″ models

– Intel Core 2 Duo (not a quad core): 2.66 Ghz, 2.93 Ghz and 3.06 Ghz

– 1x Display port

– 20″ 2 GB DDR3 memory, 24″ 4 GB DDR3 memory (max 8 GB)

si ceva despre Mac Pro:

The Mac Pro will come in eight-core configurations from 3.0GHz to 3.6GHz and 16-core configurations in 3.6GHz and 4.0GHz flavors, and it sounds like it's going to be even funkier on the video tip — our tipster says it has two regular DVI ports and a mini DisplayPort. Sure, okay. It's also apparently a bit lighter than the current model, at 35 pounds instead of 42.
exista si informatii (mai slabe , ce-i drept) despre un nou Time Capsule si un nou AirPort Extreme. Nu avem specificatii, dar stim sigur ca Apple a obtinut in ianuarie – feb 2009 certificarea FCC si a facut teste cu ele. Mai e nevoie sa repet ca vreau un Time Capsule nou?