In urma cu doar cateva zile iti spuneam ca Apple va avea un eveniment pe 22 octombrie. Am avut dreptate. Apple a trimis astazi invitatiile si ne spune "We still have a lot to cover".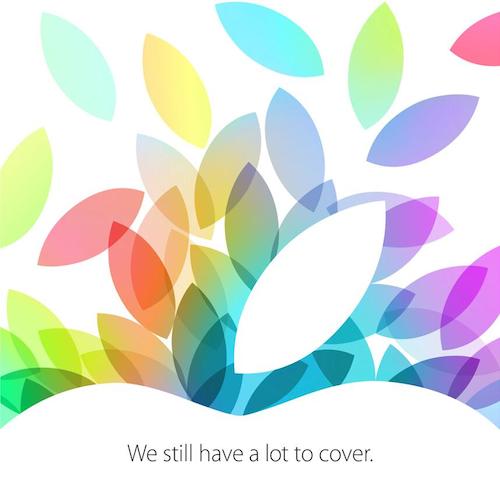 Asadar ce a mai ramas de acoperit pe anul asta? Modele noi de iPad, un update la Mac-uri, OS X Mavericks. Astea sunt evidente. Marea surpriza ar fi un iWatch sau un adevarat Apple TV, dar eu zic sa nu ne facem sperante foarte mari. Vor veni ele cind e cazul.
Eu sper ca primim si un iOS 7.1 cu multe dintre bug-urile si problemele actuale rezolvate.
Apropo, ca sa lamurim un lucru. Au fost persoane care imi spuneau ca vorbesc prostii anuntind un eveniment Apple inaintea lor.
Nu o fac des, dar atunci cind scriu despre asta, scriu pentru ca sunt sigur de data sau de informatia pe care o am. Nu am surse la nivel inalt, ci doar am invatat ce inseamna Apple si stiu sa gandesc in logica lor uneori.